Product Description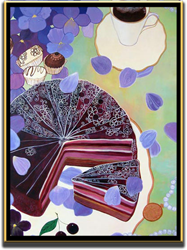 Violet Chocolatier is actually inspired by the lovely painting that you see on the left, and larger in the gallery above.  It is by the Canadian artist, Daria Jabenko.  http://dariajabenko.com/
I saw her image several years ago, and placed it into my ideas file for the future, because I thought that Violets and Chocolate sounded like a pretty good perfume.  I am a very visual artist.  I have been a Commercial Photographer, and occupied with images and photography for 40 years, since I was a boy.  Images inspire me in many ways, and this image by Daria was just the great visual "phrase" I needed for inspiration….
Ms. Jabenko has graciously consented to allowing me to use her image on this page, so long as I sent her a bottle of the perfume…   🙂
As Reviewed by Virginia Blanco, http://tedevioletas.wordpress.com/ Perfume Blog
PK Perfumes Violet Chocolatier – Velvet petals
 "Paul Kiler is a perfumist and photographer, an artist of sight and smell. He introduced himself and his PK Perfumes brand at LA Artisan Fragrance Salon. He also showed Violet Chocolatier. Who  could resist that name?
I didn't and had to smell the perfume. From the first second I was happy to meet gourmand that wasn't literal. It was not about 'cakes and biscuits', but about its components, ingredients  playing the leading character.
In the beginning, the cocoa absolute completely monopolizes our nose with a funny game of nuances: first a little bitter, dark and dusty but then white, creamy and sweet. A chord reminiscent  of chocolate covered apricots -with the spicy touch of nutmeg- emphasizes the sweetness and adds some fleshiness.
Violet and rose seem like two sides of the same coin: they are smelled together but remain separate entities. There is a combination of a dusty aspect of violet with the honeyed hue of rose. This  blend brings to mind the feel of velvety petals that barely caressing the skin.
Finally, the white flowers (jasmine, magnolia, gardenia) and amber provide a comfortable softy base and leave a clean soapy halo on the skin, where violets bloom again by contrast. I can't help  but think that if there was a Violet Chocolatier body products line it would be glorious ."
Virginia – http://tedevioletas.wordpress.com/tag/pk-perfumes/
"Any chocolate fans out there? I don't wear many perfumes with chocolate notes, but Violet Chocolatier is so much fun, I can't help but love it. Wearing it puts a smile on my face. The opening burst of heady cocoa is joined by a swirling miasma of soft apricot and unique floral notes. The blend is skillful, so that although it is chocolatey, it's not overwhelmingly so. The flowers and light spice notes hold their own. Once everything has calmed down, the aroma becomes even more floral, with a bit more of the violet peeking out. I like this scent, because it takes a couple of notes I don't care much for, chocolate and violet, and brings a new dimension to them.  It's a fun perfume to wear, and could be my favorite in the line."  – Tama Blough, CaFleureBon
•   •   •   •   •   •   •   •   •   •   •   •   •   •   •   •   •   •   •   •   •   •   •   •
"I wanted you to know that I had the pleasure of wearing your astounding creation, "Violet Chocolatier" to work this week and I immensely enjoyed every minute wearing it. Every time I put it on, I notice a different facet of it. I think it gets better the longer it's in the bottle. The juice had more of a sweet buttery character to it this time, along with the violet & chocolate. I notice something new about it each time I wear it, but it didn't impress me as being too cloying sweet or overpowering." – Susan H.